Sacramento County
League calls for City of Sacramento action
The League of Women Voters of Sacramento calls for Sacramento City Council action on legislative requirements.  LWVSC evaluated how SPD's recently revised use-of-force policies align with California's Act to Save Lives (AB 392), a state law that took effect on January 1 of this year. LWVSC's report found that SPD's revised use-of-force policies have not complied with the law even after receiving criticism and recommendations from the California Department of Justice and the city's own Sacramento Community Police Review Commission.
Next election is November 3, 2020 - General Election 
Youth and Young Adult Teams encourage voting...
Meredith, Sacramento League high school senior is producing some quick, fun YouTube vidoes - please subscribe to our channel.  Our goal is 200 subscribers.
Nancy Lapp, Ph.D. and a League board member, shared posters made by her students.  Students and the League selected their favorite!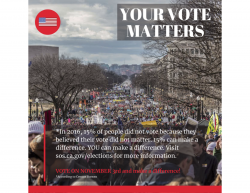 CIVITAS, a Sacramento group encouraging youth engagement, invites you to register to vote: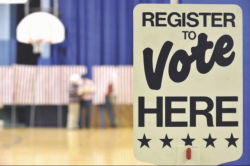 Finally a fun game about distinguishing fact from fiction regarding voting, from the Alameda County League's, Youth Services Team. 
Join us for the latest League news!