ALL California voters received their November 2020 BALLOT IN THE MAIL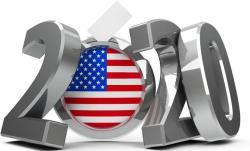 For more information about California vote-by-mail due to COVID-19 see LWV California Statement or Governor Newsom's Press Release
After months of hard work, complicated by the COVID-19 pandemic, a bipartisan, diverse group of scholars and leaders has released a new report on IMMEDIATE steps that need to be taken in law, media, politics, and tech to avoid a November election meltdown. It's on all of us to make sure they happen. #FairElectionCrisis
 Ventura County has New Voting Machines in 2020 - See them in action!
League of Women Voters of Ventura County is celebrating 61 years of civic engagement in 2020
The League of Women Voters, founded in 1920 after ratification of the 19th Amendment giving women the right to vote, is a non-partisan political organization dedicated to empowering voters & defending democracy, by registering voters, educating the public about issues and elections so they can vote wisely as well as advocating for issues on which the League has developed a position.  The League does not support or oppose any particular candidate or political party.