2020 BARNSTABLE COUNTY CENSUS RESPONSE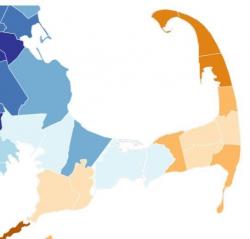 Massachusetts' response rate to the 2020 census is 63.9 % to date. 
Barnstable County's is 46.1%.
With such a low response rate, we stand to lose Federal funds for many things.  When you respond to the census, you help your community gets its fair share of the more than $675 billion per year in federal funds spent on schools, hospitals, roads, public works and other vital programs. Businesses use census data to decide where to build factories, offices and stores, and this creates jobs. Plans for highways. Support for firefighters and families in need. Census results affect your community every day.
The 2020 Census will determine congressional representation, inform hundreds of billions in federal funding every year, and provide data that will impact communities for the next decade.

If you haven't responded, please do so! Go to https://my2020census.gov/ And contact friends and neighbors: let them know the importance of their response.
 RESPONSE RATE BY TOWN
| | | |
| --- | --- | --- |
| Barnstable                 53.5 % | Brewster             45.11 % | Chatham                  32.9 % |
| Dennis                       33.5 % | Eastham                 34.1 % | Harwich                    45.9% |
| Mashpee                    49.7 % | Orleans                   41.9 % | Wellfleet                   27.9% |
| Truro                          23.5% | Provincetown           27.3% | Falmouth                  48.4 % |
| Sandwich                    66.1% | Yarmouth               51.3% | Bourne                      53.5 % |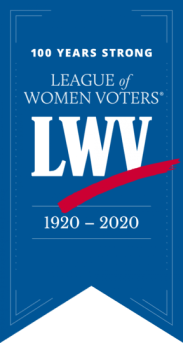 The League of Women Voters is celebrating our 100th Anniversary and the 100th anniversary of the 19th Amendment.
On August 26, 1920, women secured the right to vote when the 19th Amendment was officially declared part of the U.S. Constitution.
Over the course of 72 years, thousands of suffragists had petitioned, lobbied, marched, and picketed state legislatures, Congress, and the White House to give half of the citizens of this country the right to vote. The suffrage movement evolved to become the League of Women Voters, which is celebrating its 100th anniversary. We are part of history.
We continue to work, research, and advocate on the most important issues of the day: the climate crisis, education funding, reproductive rights, social justice, gun control, universal healthcare, immigration rights, and voter service. This is the League of Women Voters of today.
Our core mission is to strengthen our democracy through education and engagement. Ensuring accurate voter information, moderating candidates forums, and getting neighbors to the polls for the upcoming 2020 election is our future.